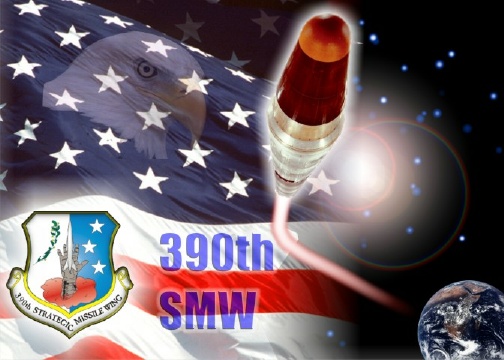 This site visted times since August 2nd, 2007.
---
Mission
The 390th Strategic Missile Wing Memorial Association is an organization dedicated to preserve the memory of the 390th SMW and the people that gave a part of their lives to support the mission.
---
For information and pictures of past and future reunions Click --> HERE
---
If you are interested in volunteering to help the 390th SMWMA, please contact Dick Kampa at the contact info above or email him at president@390smw.org
---
---
It is with great sadness to inform our members that one of our Board members and longtime friend Henry Stevens has passed away. Henry left this Earth on July 17th, 2019. Henry served on the Board and contributed to 390th SMWMA for many years. Attendees of past reunions may remember Henry conducting the "POW/MIA Remembrance Table Ceremony". Henry will be truly missed. Rest in Peace Henry.
---

Titan II Museum Room Naming Rights!!
The Titan Missile Museum has offered the 390th SMW Memorial Association an opportunity to continue to have our 390th identity perpetuated by purchasing the Naming Rights to the old Briefing Room. Normally this honor requires a donation of $25,000. The 390th SMWMA Board of Directors is in favor of the purchase as it will afford the 390th SMW recognition by all the visitors who use this room as part of their tour of the site. The Naming Rights is a separate endeavor and the Museum has offered it to us for a mere $10,000 as consideration of our past and continuing support. See the graph at left for current status of donations!
For more information click "HERE"
UPDATE!
WE MET OUR COMMITMENT!
Thanks to all who have donated to the room naming rights!
Pictures of the dedication can be found in the Reunion page and on our Facebook page.
---
The Guestbook is no longer available.

Due to more then 200 spam messages (porno, fake Viagra, etc.) a day posted to the Guestbook and hackers using a flaw in the last Guestbook to take over the site. A Guestbook will not be available until one can be found that will filter spam and can not be hacked.

Click "HERE" to view the old guestbook.

---
390th SMW Memorial Association
P.O. Box 17916
Tucson, AZ. 85731
520-886-3430
Contact Us Via Email
---
Web Page Contact: Don Boelling - Updated: Feb 25, 2019

© Copyright 2019