[ History ][ 390th MIMS ] [ 570 SMS ] [ 571 SMS ]
390th Missile Maintenance Squadron
UNIT EMBLEM
DESCRIPTION
On an Air Force yellow disc within a narrow Air Force blue border. An Old Glory red double-ended lightning bolt sinister (left) bendwise, surmounted by a white missile edged Air Force blue. Entwined by a hunter great olive branch an overall an Air Force blue skylined roadrunner detailed white, beak to dexter (right), running, legs extended, slightly above a narrow Air Force blue band fesswise. Below an Air Force yellow scroll edged and lettered Air Force blue.
SIGNIFICANCE
The emblem is symbolic of the squadron and its mission. The running roadrunner's native bird of Arizona, the state where the unit was organized in 1962, depicts the squadr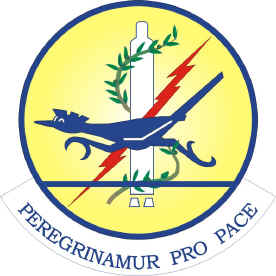 on and the millions of miles traveled in the accomplishment of its mission. The missile entwined by the olive branch signifies that power is being held dormant for peaceful purposes. The lightening bolt refers to a prior attack add to the awesome power of the missile which such an attack could bring forth. The emblem bears the Air Force colors, golden yellow and ultramarine blue.
MOTTO
Peregrioamur Pro Pace – We Travel For Peace.