[ History ][ 390th MIMS ] [ 570 SMS ] [ 571 SMS ]
390th STRATEGIC MISSILE WING HISTORY
---
390th BOMBARDMENT GROUP
On 26 January 1943, the 390th Bombardment Group (H) was activated on General Order 14, issued by Headquarters second Air Force, Fort George Wright, Washington. During the next thirty-one months, the 390th would deploy to England, fly 301 missions, dropping 18,755 tons of bombs, destroying or damaging 454 enemy planes with another 57 probable destroyed. These war- time achievements come with a price for both men and machines. Only fifteen of the original thirty-five flight crews returned home.
Prepared for combat with B-17's. Moved to England in July 1943 and assigned to Eighth AF. Operated chiefly against strategic objectives, flying many missions with the aid of pathfinders. Began combat on 12 Aug 1943. Five days later attacked the Messerschmitt aircraft complex at Regensburg and received a DUC for the mission. Received another DUC for a mission on 14 Oct 1943 when the group braved unrelenting assaults by enemy fighters to bomb the antifriction-bearing plants at Schweinfurt. Participating in the intensive Allied assault on the German aircraft industry during Big Week, 20-25 Feb 1944, the organization bombed aircraft factories, instrument plants, and air parks. Other strategic missions included attacks on marshalling yards at Frankfurt, bridges at Cologne, oil facilities at Zeitz, factories at Mannheim, naval installations at Bremen, and synthetic oil refineries at Merseburg. Sometimes flew interdictory and support missions. Bombed the coast near Caen fifteen minutes before the landings in Normandy on 6 Jun 1944. Attacked enemy artillery in support of ground forces during the breakthrough at St Lo in July. Cut German supply lines during the Battle of the Bulge, Dec 1944 - Jan 1945. Hit airfields in support of the airborne assault across the Rhine in Mar 1945. Flew last combat mission on 20 Apr 1945. Dropped food supplies to the Dutch during the week prior to V-E Day.

On August 11th 1945 the 390th arrived in New York Harbor. After a months leave the Group reassembled at Sioux Falls S.D, but never reorganized as a unit. The 390th Bombardment Group was deactivated on August 28, 1945.
SQUADRONS: 568th: 1943-1945. 569th: 1943-1945- 570th: 1943-1945- 571st: 1943-1945
390th BOMBARDMENT GROUP

568th

569th

570th

571st
STATIONS: Geiger Field, Wash, 26 Jan 1943; Great Falls AAB, Mont, 6 Jun-4 Jul 1943; Framlingham, England, Jul 1943-4 Aug 1945; Sioux Falls AAFld, SD, 12-28 Aug 1945
COMMANDERS: Col Edgar M Whittan, :26 Jan 1943; Col Frederick W Ott, 21 Apr 1944; Col Joseph A Moller, 17 Sep 1944; Lt Col George W Von Arb Jr, :23 May 1945; Maj John A Angotti, 26 Jun-Aug 1945
CAMPAIGNS. Air Offensive,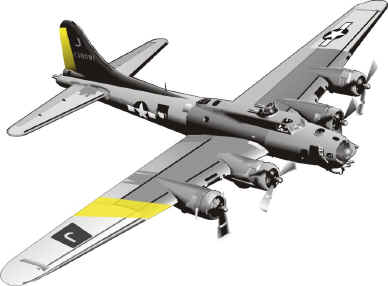 Europe
Normandy
Northern France
Rhineland
Ardennes-Alsace
Central Europe.
DECORATIONS. Distinguished Unit Citations:
Germany, 17 Aug 1943
Germany, 14 Oct 1943.
INSIGNE. Officially none .
A personal note here, it is to the people not only in the 390th but all allied forces in WWII that has my and my descendant's thanks. Also, to the people who fought and won a cold war. While rock stars sang to give peace a chance you made it happen.
In 1962 the Chief of staff of the United States Air Force (General Curtis LeMay), as a measure of appreciation to the former 390th Bomb Group commanding officer, designated a new wing of Titan II missiles at Davis-Monthan Air Force base as the 390th Strategic missile wing.
---
390th
Strategic Missile Wing

Lineage.

Established as 390th Bombardment Wing, Medium, on 23 Mar 1953. Redesignated 390th Strategic Missile Wing (ICBM – Titan), and activated, on 28 Nov 1961. Organized on 1 Jan 1962.

Assignments.

Strategic Air Command, 28 Nov 1961; 12th Air (later, 12th Strategic Aerospace; 12th Strategic Missile; 12th Air) Division, 1 Jan 1962 – 1984.

Components.

Squadrons.

390MIMS: 1 Jan 1962 - 31 July 1984.

570th: 1 Jan 1962 –31 July 1984.

571st: 1 May 1962 – 2 Dec 1983.

Stations.

Davis-Monthan AFB, Ariz, 1 Jan 1962 - 31 July 1984
---
Commanders

Date of Command

Name

28 Nov – 31 Dec 1961
None (not manned)
1 Jan 1962
Col Raymond D. Sampson
5 Jun 1962
Col John C. Fahringer
26 Jul 1962
Col Clyde J. Johnson
Aug 1962
Col Raymond D. Sampson
15 Dec 1965
Col Robert J. Hill
1 Aug 66
Col Robert R. Scott
25 Jul 1968
Col Charles R. Hammack
6 Jan 1969
Col Edward P. Denton
7 Dec 1971
Col Edgar A. Northrup, Jr.
29 Jan 1973
Col Eugene D. Scott
10 Feb 1975
Col Joseph P. Cerny
15 Jul 1976
Col George Holt, Jr.
30 Sep 1977
Col Charles H. Greenley
Mar 1979
Col Nathan Hartman
Apr 1980
Col Robert J. Roetcisoender
May 1981
Col Paul C. Comeaux
March 1983 - 31 July 1984
Col John E. Chambers
.
Missiles. Titan II, 1963 – 1984.
Operations. Formed from "scratch" in Jan 1962, although some cadre came from the 303d Bombardment Wing at Davis-Monthan AFB, Ariz. Supervised and coordinated SM – 68B (later renamed LGM-25C) Titan II intercontinental ballistic missile personnel training and facility construction, Jan 1962 – Nov 1963. First Titan II missile arrived on 27 Nov 1962 and was in- stalled in its silo on 8 Dec 1962. The wing accepted its first Titan II missile complex on 31 Mar 1963. The 570th Squadron became fully operational on 13 Jun 1963 and the 571st Squadron on 30 Nov 1963. Wing was declared fully operational on 1 Dec 1963
Named as "Best Titan Wing in SAC" following missile combat competitions in 1969, 1970, 1974 and 1977. *
Blanchard Trophy 1979
Service Streamers. None.
Campaign Streamers. None.
Decorations. Air Force Outstanding Unit Awards: 1 Jul 1969 – 30 Jun 1970; 1 Jul 1976 – 30 Jun 1977. *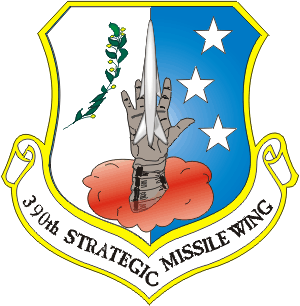 Emblem. Per pale argent and azure, originating in dexter flank and arched to chief an olive branch vert, in sinister three mullets chevronwise to dexter of the first, over all in base a cloud gules enfiled by an open mailed hand with fingers outstretched, the finger tips surmounted by a missile both palewise of the first, all within a diminished bordure or. Motto: NON NOBIS SOL- UM – Not for ourselves alone. (Approved on 2 Mar 1964.)
*The data listed above is not complete, if you can help please e-mail me with the missing data.