[ History ][ 390th MIMS ] [ 570 SMS ] [ 571 SMS ]
570th Strategic Missile Squadron
"CREATOR OF THE 570TH JOKER"


While at Blythe Army Air Base and just two days after the initial orders from the 34th Bomb Group, Major Tom Jeffrey, the newly appointed Deputy Commander, directed each squadron to develop a distinctive emblem that would set it apart from each of the others.

There are many historic references to such a technique. This emblem would be made a patch to be worn on the uniform. Major Jeffrey suggested each
squadron commander run a contest within his squadron for the design of such an emblem.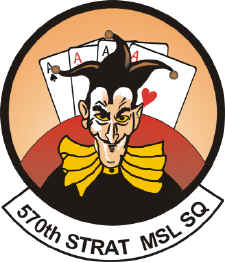 The 570th Squadron Navigator Marshall Shore and Bombardier Don Ventriss had their office in an army tent out behind the building where Captain Joe Gemmill, the Squadron Commander, and First Lieutenant Bill Jones, the Operations Officer, had their office. There was no floor or lights and Ventriss and Shore sat on folding chairs in the sand. Ventriss had some background in illustrating and came up with the idea of an old English "Joker" which was superimposed on four playing card aces, spades, diamonds, clubs and hearts. He drew it out on a table and then put it up on a makeshift easel to color it in with water colors.

The task took him two days to finish. When he got it perfected to his satisfaction, he submitted it in the 570th Bomb Squadron competition. It was so original and different that it was voted the winner of the competition.

It was offically approved 10 May 1943. Unfortunately none of the other three squadrons gained official approval.

"Written by John S. Warner"
---
Commanders
Col Clyde J. Johnsob
(became DCM in Apr 62).
Col Woodrow W. Lipscomb
12 Apr 62 to sometime in 63
LtCol Arther F. Krause
(listed in the period 63,64,& 65)
LtCol Cecil C. Metz
Col Bernard J. Schutter, Jr.
Col R.D. Lipton
Col Marty Sheinkman
(listed in the period 66.67 &68)
For the period 69 thru 28 Sept 71, haven't found any records of 570 SMS
LtCol Thomas A. Williams
29 Sept,71
/25 Aug,72
LtCol Robert J. Warren
25 Aug,72
/4 Feb,74
Col Harold E. Wilson
4 Feb,74
/26 Aug, 74
Col Walter R. Martin
26 Aug,74
/31 Aug, 75
LtCol Robert J. Smith
Sept,75
/1 Jan, 76
LtCol Dennis M. Heitkamp
1 Jan,76
/10 Jun, 77
LtCol Bertram A. King
10 Jun, 77
/4 July, 77
LtCol David A. Freedman
5 July,77
/4 Oct,78
LtCol Wells E. Hunt
4 Oct,78
/18 July, 80
LtCol Frankie J. Kotaras
18 July, 80
/24 Aug, 81
LtCol Fredric MN. Crouter
24 Aug, 81
/4 Jun, 82
LtCol Alan E. Yabui *
4 Jun, 82
/31 July,84

*date of squadron inactivation.